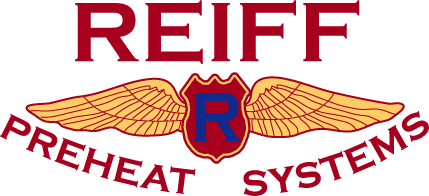 "Long Engine Life Starts With Reiff"
We supply aircraft owners with FAA approved aircraft engine preheat systems to improve your safety, help your expensive engine last longer, and simplify your winter flying. And don't forget that a preheated engine means shorter run-up time, and that saves you gas.

Our preheat system is the first choice of mechanics and aircraft owners all over the world, such as Embry-Riddle Aeronautical University and the US Air Force and Naval Academies, as well as aircraft manufacturers such as Aviat, American Champion, CubCrafters, and American Legend. Why? Because it's the best system in the world. We are the innovation leader who has set the new standard. Unlike competitive systems, we heat ALL your cylinders at no extra cost and don't use your CHT ports to do it - no messing around with expensive Rube Goldberg arrangements to allow your CHT gauge or engine analyzer to work.
---
Copyright 1996 Reiff Corporation, Ft. Atkinson, WI. All rights reserved. All information subject to change without notice.